Lithuania's Best Composers of 2018 Awarded
2019-04-27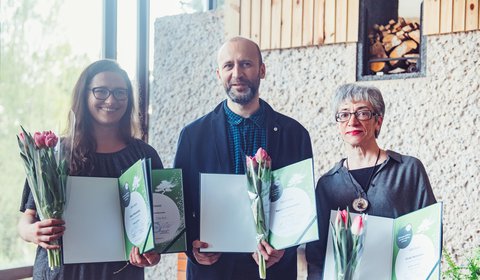 The Composers' House in Vilnius hosted an annual award ceremony 27 April to honour the members of the Lithuanian Composers' Union who wrote some of the best new music in 2018.
A total of 78 compositions, all of which had their debut performances in 2018, had been submitted for the contest aimed to cover different genres of music. The jury, led by a musicologist Beata Baublinskienė, included three other musicologists, Asta Pakarklytė, Linas Paulauskis and Rima Povilionienė, as well as two composers, Marius Baranauskas and Mārtiņš Viļums, and four performing musicians, Robertas Beinaris, Rūta Rikterė, Ingrida Rupaitė-Petrikienė and Karolis Variakojis.
Čia, Ties Tylia Riba (Here, by the mute edge), a choral piece by Justė Janulytė, was awarded for the "integrity of concept"; Labirintas (Labyrinth) for soprano and flute by Onutė Narbutaitė received the prize for a "delicate link between instrument and voice"; Chrysalis for percussion and symphony orchestra by Rūta Vitkauskaitė was honoured for a "great variety of small instruments"; Katabasis for chamber ensemble by Ramūnas Motiekaitis was credited for its "laconic idea", while Millefleur for symphony orchestra by Žibuoklė Martinaitytė was awarded for "orchestral lightscapes in music".
Nine composers younger than 30 competed for the Best Young Composer prize this year. Aleksejus Kalininas was named the winner for his Wet Stone for chamber ensemble and Eden for string orchestra.
For the fifth year in a row, the organisers of the competition encouraged the public to support their favourite composers by voting for one or more pieces from the list of 15 works preselected by the jury and made available at www.muzikosantena.lt/konkursas/. Rūta Vitkauskaitė came out the favourite of the audience with 4,200 votes. 
Last year's Prize of Honour went to singer and teacher Gintarė Skerytė for her efforts to encourage composition and publishing of new vocal pieces for children. Lithuanian Music Information Centre released in 2018 two compilations of solo songs, both produced by Gintarė Skerytė, Kodėl? (Why?) and Aš Toks (This is how I am).
A total of 93 prizes have already been presented to Lithuanian composers by the organisers of the competition first held back in 2001.
The prizes were presented by the national copyright management association, LATGA. The project was part-financed by the Lithuanian Council for Culture. The competition was organized in partnership with the Lithuanian Music Information Centre.
LCU inf.