Winners of the Vox Juventutis 2020 Competition Named
2020-05-13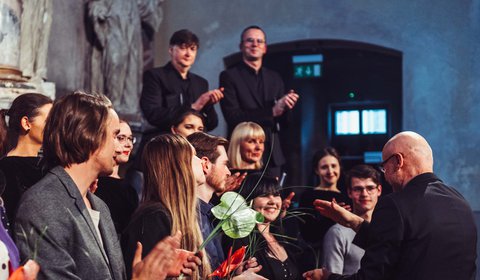 Vox Juventutis, a fourteenth competition of choral music for young composers, has changed its format this year due to the quarantine in that the final concert, usually held in early June, has been postponed and the winners have been selected online rather than during a traditional live performance of the submitted pieces.
Jauna Muzika, the Vilnius Municipality Choir led by Vaclovas Augustinas, will give a concert November 25 in St Catherine's Church in Vilnius to perform the best compositions named well in advance, May 12.
The jury, which this year consisted exclusively of the former singers of the Ąžuoliukas Boys Choir celebrating its 60th anniversary, included five famous choir conductors and composers: Laurynas Vakaris Lopas, Ramūnas Motiekaitis, Gintautas Venislovas, Alfonsas Vildžiūnas and Vytautas Miškinis, the artistic director of the Ąžuoliukas Boys Choir.
They have rated a total of 24 anonymously submitted pieces, a record number in the history of the contest. Their job was made more complicated this year because of the postponement of the live performance of the competing music due to the quarantine.
The jury has named three prize winners. Lukas Butkus came first with his piece 'They All Return'. He is a student of composition at the Lithuanian Academy of Music and Theatre. The runner-up was Michael James Hale, a student of the Jāzeps Vītols Latvian Academy of Music, with 'Evening Hymn'. Beata Juchnevič's 'Lullaby for the Dead' took the third prize. She studies composition at the Lithuanian Academy of Music and Theatre.
In addition to that, the jury has selected seven other pieces to be sung during the concert: 'Gegutė Sode, Sode Kukavo' by Goda Marija Gužauskaitė, 'Mūsų Sielos – Balti Skudurėliai' by Viltė Žakevičiūtė, 'In Monte Oliveti' by Jurgis Kubilius, 'Mirabile Mysterium' by Alise Bērziņa, 'Terra Incognita' by Salomėja Petronytė, 'O Salutaris Hostia' by Gaitis Jānis Pujāts, and 'Angelui Sargui' by Ieva Parnarauskaitė.
The audience and the singers of the Jauna Muzika Choir will also select their favourite pieces during the November 25 concert. 
Vox Juventutis is organised by the Lithuanian Composers' Union and the Jauna Muzika Choir. The competition is sponsored by the Lithuanian Council for Culture and Vilnius Municipality.
LCU