The 20th International Music Theory Conference
2020-07-03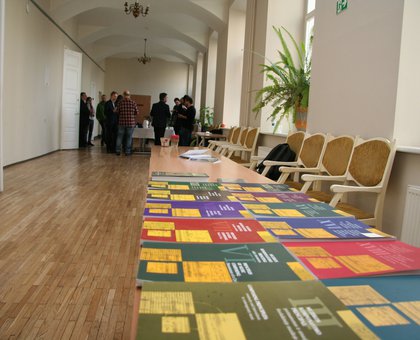 The 20th International Music Theory Conference Principles of Music Composing: Phenomenon of Teleology. November 18th – 20th, 2020. Vilnius, Lithuania. The deadline for proposal submissions is the 1st of September, 2020.
Teleology embraces the phenomena that each sort of processual art deals with: the way a work evolves over time. In other words, it focuses on the final goal or purpose (Greek telos meaning "end, purpose") as well as the course towards that goal (Heinrich Schenker). The Western music tradition has established musical forms implementing paradigmatic models of particular teleological strategies (sonata form as a pinnacle of this trend of thought), often approaching the final cadence as a complete fulfilment of a persistently pursued goal. However, evolving trajectories may seem not so obvious when we step out this conventional mental framework and face the cases of non-Western tradition or compositional inventions of the 20th –21st centuries. Static, meditative, monolithic, drone, minimalistic, instant, aleatoric musical iterations seem to, at least partly, evade a clearly defined, commonly identifiable telos.
So, what can actually serve as impetus to propel the processual flow of music? What types of developmental strategies are feasible in the light of plural cultural and ideological co-existence of the 21st century? What basis substantiates the widely established or alternative developmental models? These and more teleological issues will be thoroughly addressed in the conference "Principles of Music Composing: Phenomenon of Teleology".
The following sub-topics are suggested to disclose the subject:
I. Theoretical and historical perspectives.
1. Inter-scholarly (philosophical, psychoanalytic, psychophysiological, metaphysical, etc.) and musicological (Schenkerian, Post-Schenkerian, etc.) approach to teleology.
2. Historical perspective of teleological phenomena.
3. Links between teleology and the related concepts (dramaturgy, development, narrativity, directionality, orientation, expectation, temporality). Types of teleological strategies (culmination, reprise, balancing, elision, etc.).
4. Teleology as an inherent phenomenon of a musical work itself or as a mode of listening (objective vs. subjective perspective).
II. Teleological issues in contemporary contexts.
5. Teleological strategies and alternatives in contexts of contemporary composition.
6. Different teleological prerogatives in regard of distinct musical parameters (pitch, rhythm, timbre, the vertical, the horizontal, the diagonal, etc.) and various types of form.
7. Teleological applications in regard of particular compositional techniques (modes, series, minimalism, aleatoric principles, sonorism, sound-based morphologies, electronics, etc.).
8. Communication issues and challenges regarding the (non-)teleological approaches of the innovative compositional practices (instant, static, monolithic, meditative, electronic music, etc.).
III. Interdisciplinary and intercultural aspects.
9. Teleological potentialities in contexts of collaboration and interrelation between different artistic fields (literature, visual arts, performing arts, etc.).
10. Cultural plurality as a source for possible teleological alternatives.
Paper proposals (abstract and a short biography) should be sent by email: pmc.lmta@gmail.com. The abstract must not exceed 500 words. The duration of full presentation is limited to 20–25 minutes.
The main language of the conference is English.
The deadline for proposal submissions is the 1st of September, 2020. Proposals will be reviewed by the members of the scholarly committee and all applicants will be notified of the outcome in the second half of September 2020.
The participation fee is 20 Euros.
Selected papers of the conference will be published in the annual peer reviewed scientific journal 'Principles of Music Composing'. 
Lithuanian Composers' Union, Lithuanian Academy of Music and Theatre