Vox Juventutis 2021 Call for New Scores Announced
2021-02-09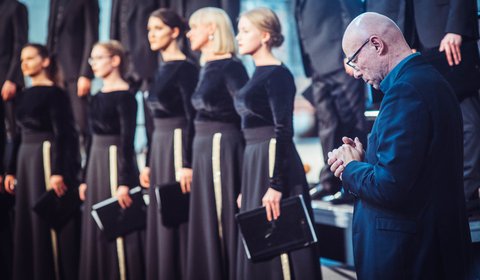 The Lithuanian Composer's Union, the Vilnius City Municipal Choir Jauna Muzika and Vilnius Choral Singing School Liepaitės have launched the 15th annual Vox Juventutis Choral Composition Competition for young composers: school pupils as well as undergraduate and postgraduate music students.
The following prizes are awarded:
1st Prize €600 
2nd Prize €400 
3rd Prize €200 
There are three additional awards:
- From the singers of the Jauna Muzika Choir;
- From the singers of the Liepaitės Girls Choir;
- Listeners' choice.
The scores of one, two or three winning pieces are to be published as part of the Vox Juventutis Series.
The criteria for the first stage of selection are:
1) Proper understanding of the choral writing;
2) Communication between music, performers and prospective audiences;
3) Comprehensive and adequate notation.
All the music submitted by contestants is to be evaluated by a five-member jury appointed by the organisers of the competition. The jury's verdict is final and cannot be challenged. 
The pieces approved for the second phase of the competition are to be performed by the female group of the Jauna Muzika Choir conducted by Vaclovas Augustinas and the Liepaitės Girls Choir conducted by Jolita Vaitkevičienė.
This year, the participating composers are expected to submit scores for treble choir (up to a maximum of four voices SSAA) a cappella or with a piano accompaniment. The compositions may include body percussion and solo parts. The duration of each piece may not exceed 5 minutes. Lyrics in Lithuanian, English or Latin may be used. Unconventional solutions are highly welcome, although the music texture should be simple enough to match the capability of an average amateur choir.
Candidates must confirm their intention to take part by sending an email to info@lks.lt by 5 April 2021. 
Composer and conductor Vaclovas Augustinas will be available for consultation to all participants between 5 April and 9 May by phone (+370 687 16572) or email (augustinus917@gmail.com). 
The participants must submit scores and demo audio files by email info@lks.lt. The deadline is 11:59 pm of 9 May 2021. 
The closing concert and award ceremony are scheduled for the late autumn of 2021 at St Catherine's Church in Vilnius. The date is to be announced later. The performances are to be recorded.
The competition is hosted by the Vilnius City Municipal Choir Jauna Muzika and the Lithuanian Composer's Union in partnership with the Vilnius Choral Singing School Liepaitės and the Lithuanian Academy of Music and Theatre. The event is sponsored by the Lithuanian Council for Culture and the Vilnius City Municipality.