International Arts Residence for young composers
2021-03-02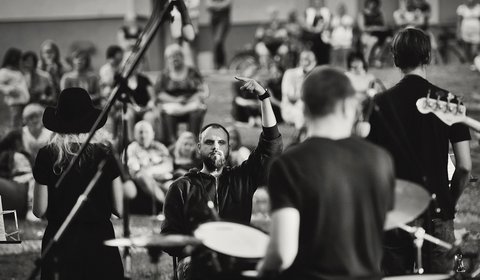 Lithuanian Composers' Union in collaboration with the Lithuanian Academy of Music and Theater, Master Program for Performance of Contemporary Music, invite young composers to apply for a spot at the International Arts Residence in the Lithuanian resort town of Druskininkai.
The 14-day event is scheduled for May 14–28, 2021. Successful applicants will each receive free accommodation in Druskininkai, a 300 euro allowance and up to 100 euro to cover travel costs.
During the first week the composers are to work individually on a new compositions, while the second week is to rehearse their works with the ensemble. At the end of the residency, the new written works will be performed at the Druskomanija Festival. Later that year,  July 9, the new works are to be played at the Kintai Music Festival and at the Interdisciplinary Festival "N žemė" in Nida (to be confirmed in march 2021). 
Age limit: 35.
Instrumentation: percussion ensemble of five performers, without electronics (see below the list of instruments). Duration: ca. 10 min. The score may be presented in traditional or graphical notation.
March 15, 2021: the applicants must submit a single pdf document containing:
- a curriculum vitae;
- samples of music: links to sheet music and recordings;
- ideas or sketches of the piece they will complete during the residency.
 
March 22, 2021: the decision about the selection will be communicated.
May 1, 2021: a preliminary score and parts for the musicians are expected.
Applications are to be emailed to dar@lks.lt.
 
Choice of instruments:
Vibraphone (1)
Marimba (1)
Gong
Snare drum (3)
Piccolo snare drum (1)
12" tom tom (2)
13" tom tom (2)
16" tom tom (2)
Bass drum (3)
23" ride cymbal (1)
20" ride cymbal (2)
16" crash cymbal (2)
12" hi hat cymbal and stand (1)
Pair of wooden claves (2)
Any type of small percussion (wooden blocks, metal blocks, various cans, triangle etc.)
Vykintas Baltakas and Arnas Mikalkėnas are the curators of the residence.
The residence is supported by Lithuanian Culture Council and public institution "Kintai Arts".