The Vox Juventutis Series Adds New Sheet Music
2023-02-13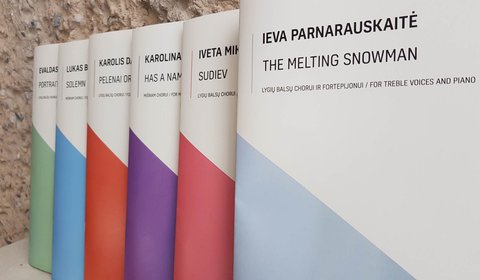 The Lithuanian Composers' Union has recently released as sheet music six new choral pieces written in 2021 and 2022 in its Vox Juventutis Series. All the works are by young and aspiring Lithuanian composers who have presented their music at the Vox Juventutis Competition in Vilnius.
Some of the pieces are written for mixed choirs, other for treble choirs; some require a piano accompaniment, other should be performed a cappella. The sheet music is already available at the Music Lithuania online store. The sheet music includes links to audio recordings.
Much more information will be available during the Vilnius Book Fair where the Music Information Centre Lithuania is to welcome guests at its stand No. A13 inside the Fifth Hall of the Litexpo Exhibition and Congress Centre for four days starting with February 23.
The Vox Juventutis Series, which now comprises 22 publications, has recently added four pieces for treble choirs: The Melting Snowman by Ieva Parnarauskaitė, Sudiev (God Bless You) by Iveta Mikalajūnaitė, Pelenai Ore (Ashes in the Air) by Karolis Dabulskis, and Portrait of a Sovereign by Evaldas Alekna. Two other pieces are for chamber choirs: Has a Name by Karolina Kieraitė and Solemn by Lukas Butkus.
Most of the composers are current students or recent graduates of the Lithuanian Academy of Music and Theatre. All the six have already presented their works during festivals and other events. The composers are active in other fields of music too. Evaldas Alekna is a member of the Jauna Muzika Choir, the Duodeco Ensemble and part of the vocal team in Saulė ir Jūra (Sun and Sea), the award-winning Lithuanian modern opera. Lukas Butkus has been one of the most committed members of the Artisans Ensemble performing contemporary music. Iveta Mikalajūnaitė is the artistic director of the ARTyn Choir.
The Vox Juventutis Competition for young composers, which this year will see its seventeenth edition, was launched in 2007 by the Lithuanian Composers' Union and the Jauna Muzika Choir. Every year, several dozen young men and women take part by presenting their choral pieces. 
Vaclovas Augustinas, a renowned Lithuanian composer and the artistic director of the Jauna Muzika Choir, consults the participants on individual basis helping them to refine their music which is eventually performed by his choir during the gala concert which in 2021 also featured choirs from the Vilnius-based Liepaitės School of Choral Singing.
A professional jury evaluates all the pieces submitted by the participants, while the members of the Jauna Muzika Choir and the audience also have their say in the form of two special prizes awarded to the young composers. The best-rated pieces are then published as part of the Vox Juventutis Series. 
This year's competition is already open, while the gala performance is scheduled for June 10 at the Saint Catherine Church in Vilnius. The link for applicants >> 
The Lithuanian Council for Culture is a financial sponsor of the Lithuanian Composers' Union and the Vox Juventutis Series.