23rd International conference of music theory
2023-06-13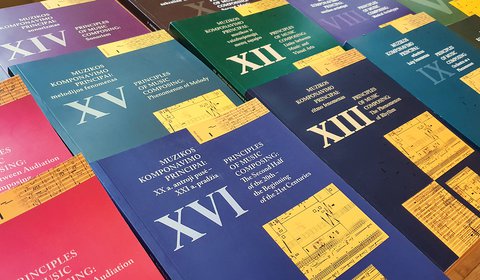 Lithuanian Composers' Union, Lithuanian Academy of Music and Theatre, 23rd International conference of music theory "Principles of Music Composing: National versus Global", November 15-17, 2023, Vilnius.
Balance between national and global, as a compositional dilemma, is in the centerpiece of this year's conference. In today's postmodern society, the very concept of nationalism might evoke numerous discussions, as the things that one perceives as "national" may significantly differ depending on the socio-cultural environment of the beholder. 

The organizers of the conference are particularly interested in the concept of national music and its perspectives in today's cultural environment. We would like to invite the scholars to explore the compositional processes of nationalistic music as a cultural ecosystem that exists in a multiverse of global tendencies.

It is our belief, that the potencies of emergence of nationalistic music lies within the clash of these two (at a first glance) opposing paradigms.

Ethnic music has always been the main source that has driven the potencies of nationalistic music due to its resonances with collective identities in particular national communities. However, it brings a variety of issues such as: supremacy, appropriation, clashes between ethnic origins and cultural identities, etc. The organizers of the conference are particularly interested in discovering a set of conditions that may help preserve the elemental nature of ethnic music and carry its potentials into the 21st century as well as discover the possible equivalents of "the national" in the music of the post-national era. These issues have always been an inseparable part of Lithuanian music; therefore, we would like to invite to address the problematics of Lithuanianness in contemporary music.
Suggested subthemes:
1.    Theoretical perspectives of the dilemma between National and Global: historical, musicological, interdisciplinary aspects (topicality, concept, genome, etc.);
2.    Composing of nationalistic music as a cultural ecosystem  within unified global contexts;
3.    Symbiosis between composing principles and national characteristics;
4.    Peculiarities of contemporary constituents of nationalistic music composition (audiation, realization, notation, communication, etc.);
5.    Expressions and functions of ethnic music in modern composing practice (timbre, rhythm, melody, modality, formal structures, aesthetics, communication, etc.);
6.    Integration of modern compositional techniques (micro-intervals, sonorism, aleatory, performative elements, interactivity, etc.) into nationalistic narratives;
7.    Interaction between traditional and novel compositional approaches (mimesis, symbiosis, inclusion, collaboration, interactivity, etc.) as a stimulus for survival of national music;
8.    Possible cultural equivalents of nationalism in the music of post-national societies.
Paper proposals (abstract of the presentation and a short biography) must be sent to the email: pmc.lmta@gmail.com. Annotation must not exceed 500 words. The approximate duration of the presentation is 20–25 min. 
The deadline for submitting the proposal is September 10, 2023. All proposals will be evaluated by the scientific committee. All applicants will be informed about the committee's decision by September 20.
The conference will be in English. The conference will be held in a hybrid format; therefore, it is possible to present in person and online.
Participation fee* (only once selected by the scholarly committee): 
in person – 30 €;
online – 50 €.
*If you are not able to pay the participation fee, please contact us for the waiver. 
Disclaimer: Due to an ongoing geopolitical situation we do not accept proposals from scholars associated with institutions of Russia or Belarus.
Selected papers of the conference will be published in the annual peer-reviewed journal 'Principles of Music Composing'.
Scholarly committee of the conference:
Prof. Dr. Rimantas Janeliauskas (Lithuanian Academy of Music and Theatre) 
Prof. Dr. Antanas Kučinskas (Lithuanian Academy of Music and Theatre) 
Prof. Dr. Mārtiņš Viļums (Lithuanian Academy of Music and Theatre) 
Assoc. prof. Dr. Marius Baranauskas (Lithuanian Academy of Music and Theatre)
Prof. Dr. Pavel Puşcaş (Music Academy Cluj-Napoca, Romania) 
Prof. Miloš Zatkalik (University of Arts in Belgrade, Serbia) 
Prof. Roger Redgate (Goldsmiths, University of London, England) 
Dr. Bert Van Herck (New England Conservatory of Music, USA) 
Dr. Jānis Petraškevičs (Jāzeps Vītols Latvian Academy of Music, Latvia) 
Dr. Martin Vishnick (United Kingdom) 
Coordinators of the conference:
Assoc. prof. Dr. Marius Baranauskas
Dr. Andrius Maslekovas